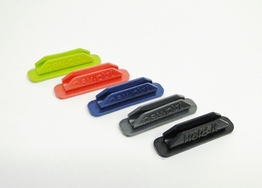 The classic Pen Pal holds a variety of pen shapes and sizes. The largest pen size the classic Pen Pal can hold is a standard sharpie. The classic is great for almost anywhere. The strong adhesive can stick to most surfaces and provides a vice like grip to the surface ensuring the Pen Pal will not come loose.

Click the "Buy Now" button above to order.
All orders include free shipping!

Quantity Based Pricing:
25-49 : $1.15
50-74 : $1.06
75-99 : $1.00
100-199 : $0.95
200-499 : $0.90
500-999 : $0.85
1000-1999 : $0.80
2000-3999 : $0.75
4000-6999 : $0.70
7000-9999 : $0.65
10000+ : $0.59
Imprinted Pen Pals have all the same great design features as the Classic Pen Pal, but display a custom logo or company name. This kind of Pen Pal has endless uses. Some of the most popular uses for the Imprinted Pen Pal include convention favor handouts, retail sales, and company advertisement. Not only does this pen holder hold a pen, but it advertises for any business.

To order Imprinted Pen Pals
call 614-348-2517 or email eguirlinger@flexcartllc.com

Used for moving a Pen Pal to a new location.
Adhesives are $.30 each and must be ordered in a
minimum quantity of 20.

Free Shipping!

To order Adhesive Backings
call 614-348-2517 or email eguirlinger@flexcartllc.com

Pen Pal Lanyard w/ Pen Holder
Want to do something completely different at your next trade show that will make a great impression on your attendees and give you more promotional space to sell? Use the Pen Pal LanyardTM instead of a regular lanyard and that's exactly what you will get.


The Pen Pal Lanyard is the only trade show lanyard that includes a special patent-pending pen holder the Pen Pal and comes with a pen. This unique device is designed to secure pens of various sizes in a neat and convenient position on the lanyard. It also eliminates one of the most commonly-asked questions at any trade show: "Do you have a pen?" This cleaver product will have everyone at your trade show talking.


Previously, you could sell to exhibitors the opportunity to advertise their name on the lanyard only. With the Pen Pal Lanyard, you will now have two additional advertising spaces to generate new revenue for your show: One on the side of the Pen Pal and one on the pen it is holding.


Don't wait to put the Pen Pal Lanyard to work at your next trade show! This is the first year it is available. Using it now guarantees you maximum benefit and wow factor.


*1/2" x 20" bootlace lanyard including a 3" x 4" clear plastic badge holder. Price includes printing of a one color logo on the lanyard. Lanyard available in 6 colors. Three week lead time on express shipped orders.

To order Pen Pal Lanyards
call 614-348-2517 or email eguirlinger@flexcartllc.com

The same high quality pen that comes as part of the Pen Pal Lanyard can be purchased separately. Price includes your choice of 6 colors and printing of your company name, address, and phone number on the pen in one color. Three week lead time on express shipped orders.

To order, call 614-348-2517 or email eguirlinger@flexcartllc.com